All you need to know about summer fishing

Image source: https://app.fishsurfing.com/ozkS
Most people love summer because of the warm and long days, and the endless possibilities to be outdoors. However, there are several factors to bear in mind when it comes to fishing if you want to have successful trips. Sunny and hot days are not your best friend, particularly if you want to target bigger fish - the so-called trophy fish. Let's look at some of the elements that can make your day during the hot season. 

River Fishing
Fishing in rivers is always quite challenging, however, the summer period is perhaps the best season due to several factors. First of all, we should mention that rivers do not get any ice water from the melting snow and that's important. This means that the water temperatures remain stable and fish feeding habits are not affected by constantly changing conditions. So what else is crucial for river fishing? Rain is certainly something to watch out for. During the summer, rivers with slow currents and stagnant areas have high water temperatures and less oxygen. Rain quickly changes the river conditions in a positive way and fish usually go on the hunt during and after showers. Fish still feed even when it's hot, you just need to find the right time and places. As a rule of thumb, you should visit the river early in the morning or late in the evening when the sun is not that strong. Usually fish tend to have an active 30-60 minute feeding period a day and you stand a good chance to catch it in the morning or evening. Once the sun is up and you feel the heat on your skin, most fish are also affected by the heat and will hide somewhere cooler. Look for hanging over the water trees and present your lure or bait right under the trees. Fish can be tempted by food sources even when it's hot. Furthermore, rivers are lower and water is clear in the summer and you should make the most out of these factors. Lower water means you can reach the usual tough places. The clear water gives you the chance you use all types of lures and baits as they are easily spotted by fish. But bear in mind that fish can see you from a long distance in such conditions, thus you need to move slowly and quietly.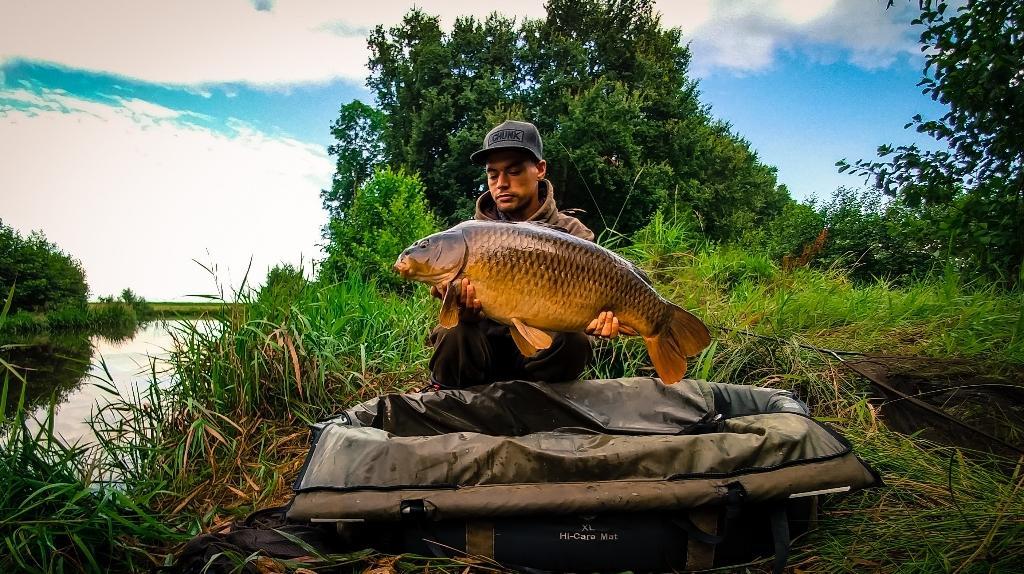 Image source: https://app.fishsurfing.com/QMEV 
Lake fishing
Going fishing early in the morning (at sunrise) and late in the evening (before sunset) is applicable for lake fishing, too. These are the best times to catch most fish species. Try covering the shallow waters early in the day before the sun gets too hot. Prey fish usually swim around in groups in those shallow waters and predator fish are ready for an easy breakfast. Once it gets hot you should look for fish in the deeper waters or the so-called borders(places between shallow and deep water). Bigger fish do not like to stay in the heat in the shallows and thus you should not waste your time there. One particular exception for freshwater fishing is the catfish. This specimen embraces the hot weather and its appetite grows with the rising temperatures. You can catch catfish even during the hottest part of the day. 
Vegetation also plays an important role in lakes. Those lakes with heavily dense vegetation are different from lakes with no vegetation at all. Beds of weeds for example offer 3 important things to fish - shade, oxygen, and shelter. Therefore, vegetation is a good sign during hot days and you should cast your lures around or even inside the weeds when looking for a predator fish. For those of you who practice shore fishing, remember that your usual spots are likely to be unreachable due to high grass growing rapidly during the warm months.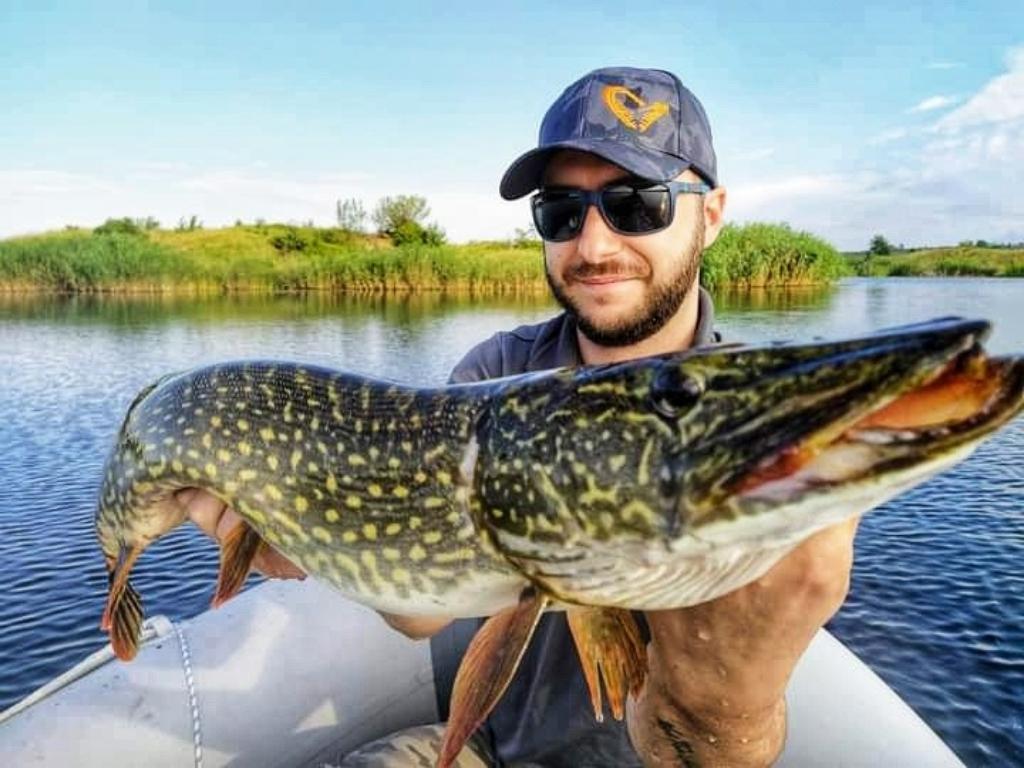 Image source: https://app.fishsurfing.com/sfdy 
Sea fishing
Summer is the perfect time to combine a seaside holiday with your family with fishing at the same time. Depending on the place you visit, you may have a good chance of catching fish on the beach, rocks, or piers.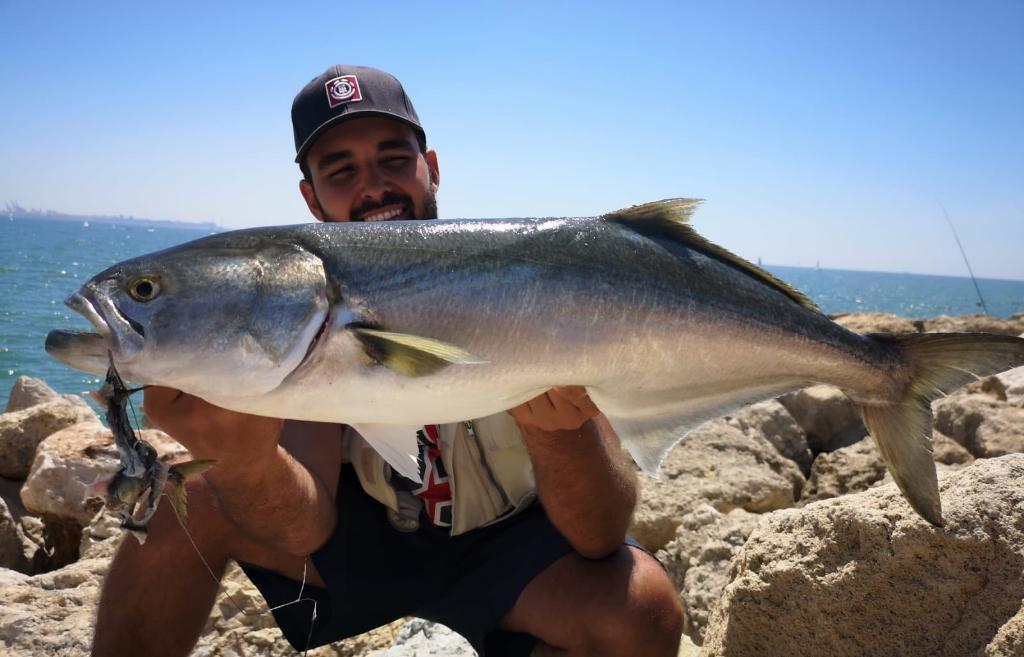 Image source: https://app.fishsurfing.com/GeQB 

Research what species are found in your holiday destination and ask the locals for any tips and tricks. Summer is also the best time for fishing in the colder regions in Europe such as the Norwegian Fjords for example. Fish are hungry and active and all you need is a fishing tackle as well as free time to walk around the shores. You can read more about Fishing in the Norwegian Fjords here. 
General tips
Summer fishing is different from fishing in the cold months and you should choose the right lures and baits. Predator fish are much more active in the summer and can swim fast in comparison to the winter season. Therefore, you can use lures that allow speedy retrieves to attract fish such as pike, zander, chub, asp, etc. Also, surface lures work great in the warm months - applicable to all lakes, rivers, and sea fishing. Make use of them early mornings and late evenings for best results. Find shady places whenever possible when fishing with live baits. When it gets too hot, try bottom fishing or feeder instead of float fishing. 
Let's talk about the most important accessories you'd need during summer. Always bring sunglasses, suncream and a cap with you. Staying in the blistering sun for a few hours can lead to serious burns especially when you fish from a boat in open waters. It is wise to invest in UV long sleeve shirt if you like to be outdoors all day long. Make sure you have enough water to stay hydrated. Use long trousers when you fish from the shore. Most rivers and lakes are surrounded by high grass and you don't know what lurks in there. Watch out for ticks when you walk through grassy areas. Always have a repellent at your disposal and spray your shoes and clothes before going fishing. Do not underestimate the weather and regularly check the forecast for thunderstorms. Immediately stop fishing if you spot any signs of lightning or thunder. Storms can move fast and your fishing rods can expose you to real danger. Be well prepared before going fishing out in the heat and have fun!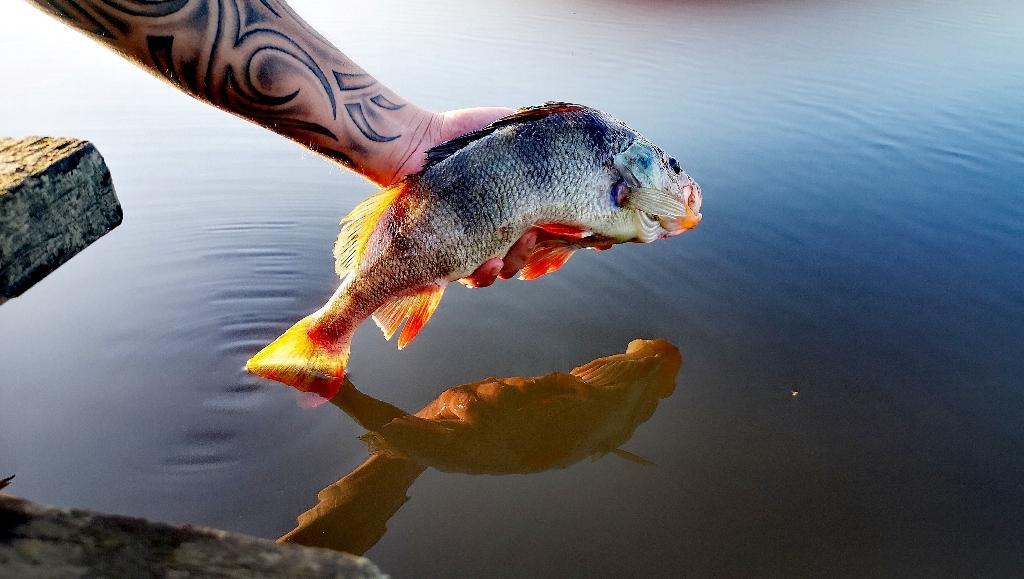 Image source: https://app.fishsurfing.com/xtyb