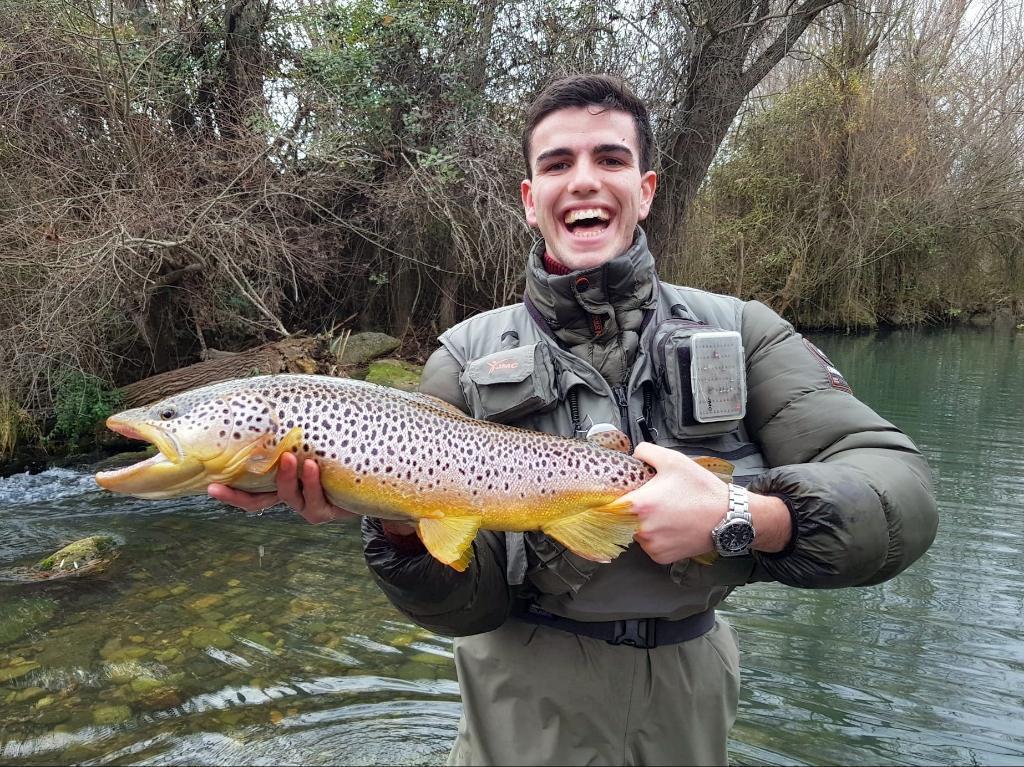 Francesc is just eighteen years old, but already has more than twelve years of experience as a fly angler, and started participating in local and country-wide competitions 4 years ago. He has won a handful of competitions in Catalunya and Spain, and is getting ready to participate in his first world championship in Bosnia next year. 
This cheerful young angler from the Catalonian pyrenees has been fishing for most of his life and gave us a few minutes of his time to get to know him better and share his passion for fly fishing with all of us. 

Quick bio: 
Age: 18 (fishing since age 6)
Location: Tarragona 
Occupation: student of metallurgy 
Hobbies: I go a bit to the gym, but only to stay fit. With fishing I don't have a lot of time for other activities. 
Favorite fish to catch: trout

Francesc, thank you for your time and for letting us get to know you a bit better. Tell us a bit about when you started to fish and who inspired you to do so. 
It was a Sunday, I remember it as if it was yesterday. My dad was passionate about fishing. We went on a father-son trip to a nearby dam and that's when I caught my first trout and I freaked out with joy. I was so excited about it. He then continued to teach me what he knew. Later he introduced me to a man with whom I work nowadays, he manages my social media and website. I started in a spontaneous way and this man started to teach me and show me around the fishing world.  

What is your favorite spot to fish? 
The pyrenees. I am from the pyrenees, I was raised and lived my entire life there. It is my comfort zone, also for fishing. Here in Tarragona I don't fish. I am not passionate about the ocean with all the beach goers and chaos. In my river, in my region, that's where I like to fish the most. The ambience, the tranquility, that's what I like the  most. If you turn off your cellphone nobody disturbs you and you can unplug yourself for a bit. 
For those of us who haven't participated in a fishing competition, please tell us a bit about them. 
In Catalunya we have fishing associations. Each angler has one in his region. When you want to move forward and decide to join a championship you have to do it through the association. Usually there are 2-3 local qualifiers every year for the national competition. Each of these competitions last 1 or 2 days. We take turns to fish. Meaning, out or 40 anglers, 20 fish and the others control the others. Those who fish on the first round, watch and control the next round, etc. 
When you catch something, it is the others who control and measure it. In the ones that I compete we do only catch and release. You actually get penalized if you kill a fish, even if it is by accident. Normally we fish trout, but if we go to other places we might catch pintos (brown wrasse) or other fish. 

Tell us about your most memorable catch. 
Uf. There are many. But really, there was one about two winters ago in Alfarrás. We were three friends, we competed and trained together. We caught a trout which got stuck on a branch and we could not get it out. I was holding the fishing rod so my friend dived in and was able to find the fish. The other friend was recording it and laughing out loud. And off course when we were posing for the picture the fish jumped away and the other friend managed to catch it. At the end we were able to take the photo before releasing it back into the water. It was about 80 centimeters. Since we practice catch and release we don't weigh it.  

What is your idea of a perfect trout fishing session? 
Basically me without a cellphone in the pyrenees. As long as I am calm in the river I don't have any other problems or needs. 

Who has been the best angler you have had the honor of fishing with to this date and why? 
It was a French angler, Xavier del Río, at a competition. I was still a little boy. He gave me instructions and was telling me what to do the whole time, in competition it is all about being effective. He was controlling me like a captain and that is where I really learned how to compete. 

Have you fished abroad? 
I haven't yet. I was supposed to go to Bosnia this year, but due to COVID we had to postpone it. I have always fished around Catalunya and Spain. We will be going to Bosnia in 2021 for the world championship. 

Do you have any goals or dreams yet to fulfill in fishing? 
I want to travel abroad, aside from the world championships I want to see new places, experience different situations, have new challenges, find hard to catch trouts, and complicated fishing locations. And off course compete at a world championship which I will do next year. Some years it is in North America, Tanzania, South Africa, etc. Next year is Bosnia. In order to compete you need to be first or second place in Spain, which I have already done, so now it's 2021 in Bosnia and I will be there.